Commercial Lockouts Sterling, VA – Locksmith Service Sterling VA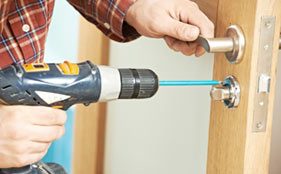 Your commercial property forms the crux of your business, as such; losing access to it, even for a day can create an adverse impact on your operations. At Locksmith Service Sterling VA, we understand just how necessary it is to ensure there are no interruptions in business operations to prevent productivity loss and other setbacks. Running a business ourselves, we also understand the dire repercussions of a commercial lockout and do everything it takes to restore access to the properties of our commercial clients in the region. With a 24-hour emergency division and dedicated commercial locksmiths working in Sterling, VA area, you never have to worry about losing precious business hours in case of an office lockout.
Why do you need a commercial locksmith?
Home lockouts, though equally traumatic, are simple! A quick fix of the lock or whipping up a new key can solve the problem! Commercial lockouts, on the other hand, are far more complex puzzles, ones that can only be unraveled by a professional .With businesses emphasizing on the need for greater security, the use of advanced, robust and high-security locking systems has become prevalent. Getting past the security of these locks is a tough feat, one that your average local locksmith cannot accomplish. That's why you need to hire an expert commercial locksmith from our team to regain access.
Why choose us during lockouts?
A 24-hour locksmith:
Every minute is precious, and losing precious time waiting for a locksmith to open shop and resolve your commercial lockoutis completely out of the question. Most businesses these days run 24/7, so why shouldn't we? Our 24/7 availability makes us the perfect choice to address your emergencies, any time they crop up!
True professionals:
Your business is loaded with critical information and data. You can't just trust a random locksmith with it! At Locksmith Service Sterling VA, we conduct extensive background checks and ensure that our technicians are bound to a strict code of ethics. This ensures that your privacy and security is not compromised.
Fully-equipped vans:
Getting there, assessing the problem and making our way back to the store to fetch a tool or a spare is no-go, especially in times of commercial lockouts. That's why we load all the equipment we need on our mobile vans that allows us to deliver solutions on site.
Affordable solutions
Most locksmith companies in Sterling, VA area take the liberty to exploit clients caught in such messy spots, simply because they know that the client has no choice but to pay up! But there is a choice! With us, you never have to worry about paying more than standard charges for commercial lockout service.
Over the years, we've handled innumerable commerciallockouts and have helped several offices, industries, and organizations restore access, thereby preventing productivity loss. If you need a locksmith you can trust to be there on time, resolve the issue properly and charge an honest price, then you need to hire Locksmith Service Sterling VA!
Don't let lock and key emergencies hold your business back! Restore normalcy with one phone call to 703-646-9200!