Master Key Sterling, VA – Locksmith Service Sterling VA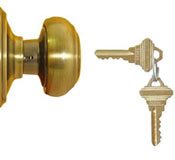 Ever wondered how hotel managers have access to just about every room? And no, they don't lug around a heavy key ring for it – all they need is a master key to gain access to multiple locks in the premises. The system is also prevalent in apartment complexes and businesses where easy key control is to be achieved. So, if you're looking for a solution that will minimize the hassle of carrying a large number of keys, then you need to get in touch with Locksmith Service Sterling VA. We specialize in developing master keysolutions and have assisted several residential and commercial clients in Sterling, VA enjoy the superior benefits that come with it!
How it works?
Most people confuse the master key as a key that can open just about any lock, but in reality, it is just like any other key. The difference lies in the locks that are used! While they may look ordinary, to implement a master key system, the locks must be configured with two different configurations. One will be answered by its change key, and the other one, which is common to all locks in the set, is opened by the master. A more complex system with master and sub-master keys can also be devised.
Do you need one?
Implementing the system, either in your commercial or residential property, comes loaded with several benefits, such as:
You don't need for multiple keys
There's one key to open all locks
In case a key is misplaced, your access is not completely taken away
You can use it to restrict access
You can gain complete control over the access to your property.
While the prospect of setting up a master key system seems promising, it's not for everyone! What if you're careless with your key and one day end up losing it? What if your business' access needs change ever so often and you need to rekey the entire set of locks over and over again? To know what works for you and what doesn't, you can always consult a professional locksmith from Locksmith Service Sterling VA! With our decade of experience in the region, we're aware of the nuances involved in master key making and can provide the best recommendations.
24/7 master key services
A stolen master key would mean putting your entire security infrastructure at risk! We know just how critical such situations are and provide a 24/7 service to redeem you from such circumstances. From rekeying your locks to making a copy of your master key, we can do it all on a 24-hour basis.
Need a new master keysystem set up? Want to know more about our locksmith services in Sterling, VA area? Reach out to us on 703-646-9200!